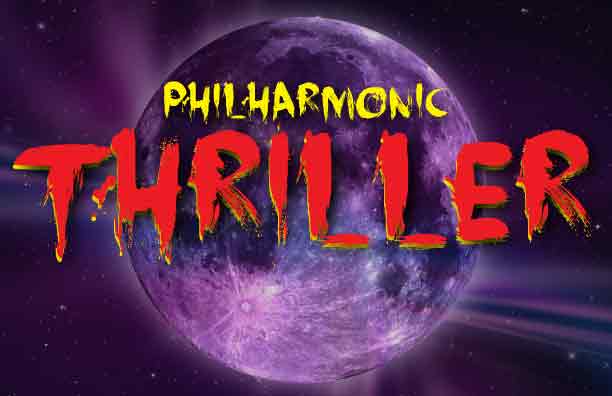 Scary classics meet scary film scores along with some Thriller fun.
Join the Michigan Phil musicians in costume by donning your own as the orchestra takes you on a musical joy ride. The concert opens with Bach's ultimate scary classic –Toccata in D Minor on the organ – then feel as though you are riding along with the witches as they fly over Bald Mountain and through the Hall of the Mountain King to rendezvous with their sisters from Wicked.
Heading to Mexico we take in a little Day of the Dead theme with Alice Gomez's Festive Huapango, celebrating Dia de los Muertos. The concert also features the beautiful haunting melodies from Twilight and The Chronicles of Narnia along with super hero medleys from Superman and Harry Potter and just to top it off – Michael Jackson's funky "Thriller" complete with dancing zombies!
Time:
Saturday, October 21, 2017, 7:30 pm
Location:
PARC, Plymouth Arts and Recreation Complex
Tickets:
General $30   Senior $25   Student $10
Guest Artists & Composers
J.S. Bach Toccata in D Minor, BWV 565 (keyboard solo)
Modest Mussorgsky Night on Bald Mountain
Edvard Grieg In the Hall of the Mountain King from Peer Gynt
Stephen Schwartz Highlights from Wicked
Carter Burwell Bella's Lullaby from the movie "Twilight"
John Williams Superman Returns
Alice Gomez Festive Huapango (1992)
John Williams, Alexandre Desplat, Patrick Doyle, Nicholas Hooper The Complete Harry Potter
Harry Gregson-Williams Chronicles of Narnia – The Lion, the Witch and the Wardrobe
Michael Jackson Thriller